tasty bite of the day: faux taho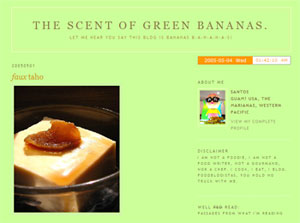 http://scentofgreenbananas.blogspot.com/2005/05/faux-taho.html
How fitting that my very first

tasty bite

is from one of my favorite food blogs: the scent of green bananas. I am a lover of recipes like Santos'

faux

taho that are

short and sweet

in as many senses of those two words as this one is -

short

both in the length of the list of ingredients

and

in the preparation time (and let's not forget the time that it would likely take me to eat what looks to be an especially delicious dessert!), and

sweet

in taste and in the healthy and simple qualities of the ingredients: tofu, ginger, and a little brown sugar.

This isn't the time for me to dwell on the necesseties of consuming

sugar

each day, whether it be brown sugar as in Santos' creation, or perhaps sugar in the form of honey, or maple syrup, or sucanat, etc... But it

is

the time for me to extol the blessings of tofu and ginger to those who may be skeptical or unaware. There are many people who shy away from tofu and ginger. Tofu is a health food. It lacks in flavor, and its texture can be sort of chewy or mushy. As for ginger, well, it can be a little strong. Tofu and ginger are often intimidating ingredients for people to work with. But this needn't be the case! And this recipe is a great place to start.

There are several different kinds of

tofu

, and there is an infinite number of possibilities for its preparation - and both factors make a huge difference in its texture and flavor. I find silken tofu to be the least offensive to newbies, and that is the kind Santos uses in her recipe. As its name indicates, silken tofu is soft - it is often used for things like shakes and puddings and vegan cheesecakes, and it tends to melt in your mouth. Delicious! And with a sweet sauce of ginger that has been mellowed out a bit with a taste of brown sugar, you won't even taste the tofu's much more subtle flavor, also a boon for those who are unitiated. Make this, then make this again. Then try other sauces, then other types of tofu, and soon you will be eating the good stuff right out of the package, too.

Thank you for the great entry, Santos, and thank you to any and all of my new readers. I look forward to more tasty bites soon.